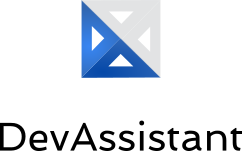 This is a simple story about a logo design process for an open source project in case it might be informative or entertaining to you. 🙂
A little over a month ago, Tomas Radej contacted me to request a logo for DevAssistant. DevAssistant is a UI aimed at making developers' lives easier by automating a lot of the menial tasks required to start up a software project – setting up the environment, starting services, installing dependencise, etc. His team was gearing up for a new release and really wanted a logo to help publicize the release. They came to me for help as colleagues familiar with some of the logo work I've done.


When I first received Tomas' request, I reviewed DevAsisstant's website and had some questions:
Are there any parent or sibling projects to this one that have logos we'd need this to match up with?
Is an icon needed that coordinates with the logo as well?
There is existing artwork on the website (shown above) – should the logo coordinate with that? Is that design something you're committed to?
Are there any competing projects / products (even on other platforms) that do something similar? (Just as a 'competitive' evaluation of their branding.)
He had some answers 🙂 :
There aren't currently any parent or sibling projects with logos, so from that persepctive we had a blank slate.
They definitely needed an icon, preferably in all the required sizes for the desktop GUI.
Tomas impressively had made the pre-existing artwork himself, but considered it a placeholder.
The related projects/products he suggested are: Software Collections, JBoss Forge, and Enide.
From the competition I saw a lot of clean lines, sharp angles, blues and greens, some bold splashes here and there. Software Collections has a logotype without a mark; JBoss Forge has a mark with an anvil (a construction tool of sorts); Enide doesn't have a logo per se but is part of Node.js which has a very stylized logotype where letters are made out of hexagons.
I liked how Tomas' placeholder artwork used shades of blue, and thought about how the triangles could be shaped such to make up the 'D' of 'Dev' and the 'A' of Assistant (similarly to how 'node' is spelled out with hexagons for each letter in the node.js logotype.) I played around a little be with the notion of 'd' and 'a' triangles and sketched some ideas out: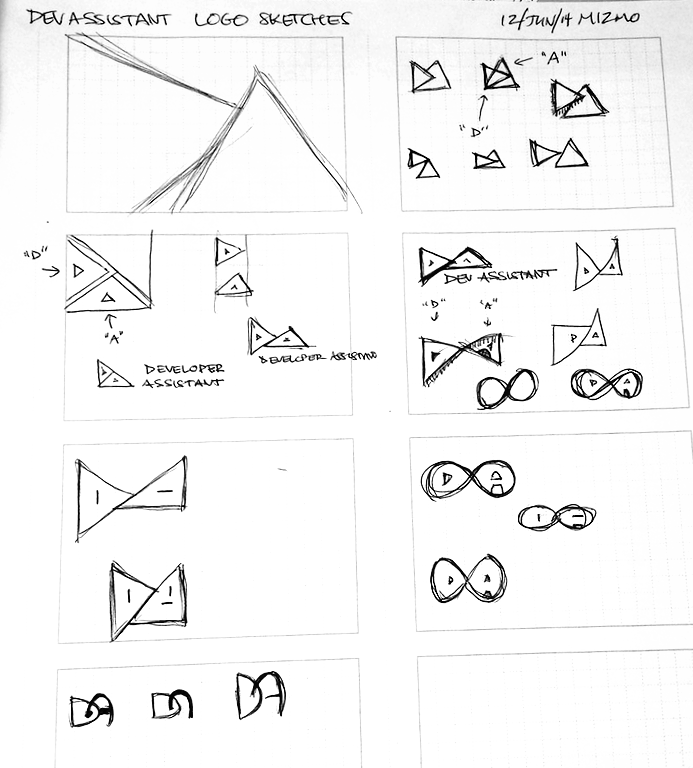 I grabbed an icon sheet template from the GNOME design icon repo and drew this out in Inkscape. This, actually, was pretty foolish of me since I hadn't sent Tomas my sketches at this point and I didn't even have a solid concept in terms of the mark's meaning beyond being stylized 'd' and 'a' – it could have been a waste of time – but thankfully his team liked the design so it didn't end up being a waste at all. 🙂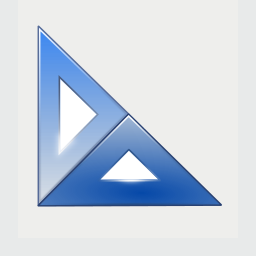 Then I thought a little about about meaning here. (Maybe this is backwards. Sometimes I start with meaning / concept, sometimes I start with a visual and try to build meaning into it. I did the latter this time; sue me!) I was thinking about how JBoss Forge used a construction tool in its logo (Logo copyright JBoss & Red Hat):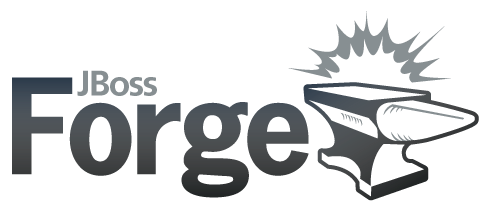 And I thought about how Glade uses a carpenter's square (another construction tool!) in its icon… hmmm… carpenter's squares are essentially triangles… ! 🙂 (Glade logo from the GNOME icon theme, LGPLv3+):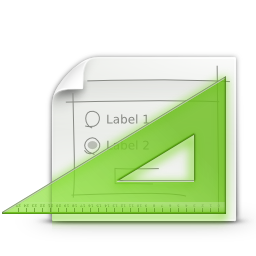 I could think of a few other developer-centric tools that used other artifacts of construction – rulers, hard hats, hammers, wrenches, etc. – for their logo/icon design. It seemed to be the right family of metaphor anyway, so I started thinking the 'D' and 'A' triangles could be carpenter's squares.
What I started out with didn't yet have the ruler markings, or the transparency, and was a little hacky in the SVG… but it could have those markings. With Tomas' go-ahead, I made the triangles into carpenter's squares and created all of the various sizes needed for the icon: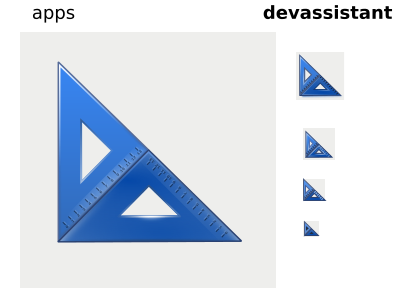 So we had a set of icons that could work! I exported them out to PNGs and tarred them up for Tomas and went to work on the logo.
Now why didn't I start with the logo? Well, I decided to start with the icon just because the icon had the most amount of constraints on it – there's certain requirements in terms of the sizes a desktop icon has to read at, and I wanted it to fit in with the style of other GNOME icons… so I figured, start where the most constraints are, and it's easier to adapt what you come up with there in the arena where you have less constraints. This may have been a different story if the logo had more constraints – e.g., if there was a family of app brands it had to fit into.
So logos are a bit different than icons in that people like to print them on things in many different sizes, and when you pay for printed objects (especially screen-printed T-shirts) you pay for color, and it can be difficult to do effects like drop shadows and gradients. (Not impossible, but certainly more of a pain. 🙂 ) The approach I took with the logo, then, was to simplify the design and flatten the colors down compared to the icon.
Anyhow, here's the first set of ideas I sent to Tomas for the logomark & logotype: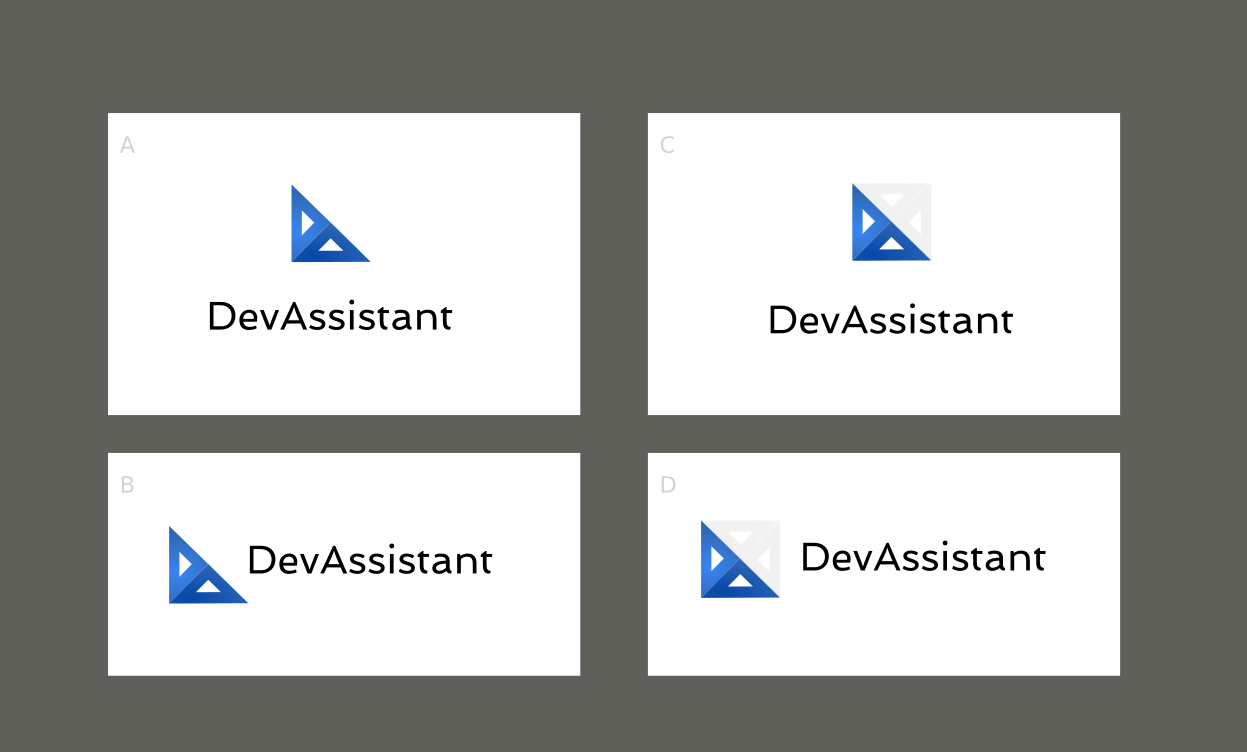 From my email to him explaining the mockups:
Okay! Attached is a comp of two logo variations. I have it plain and flat in A & B (A is vertical, and B is a horizontal version of the same thing.) C & D are the same except I added a little faint mirror image frame to the blue D and A triangles – I was just playing around and it made me think of scaffolding which might be a nice analogy. The square scaffolding shape the logomark makes could also be used to create a texture/pattern for the website and associated graphics.
The font is an OFL font called Spinnaker – I've attached it and the OFL that it came with. The reason I really liked this font in particular compared to some of the others I evaluated is that the 'A' is very pointed and sharp like the triangles in the logo mark, and the ratio of space between the overall size of some of the lowercase letters (e.g., 'a' and 'e') to their enclosed spaces seemed similar to the ratio of the size of the triangles in the logomark and the enclosed space in the center of the logomark. I think it's also a friendly-looking font – I would think an assistant to somebody would have a friendly personality to them.
Anyway, feel free to be brutal and let me know what you think, and we can go with this or take another direction if you'd prefer.
Tomas' team unanimously favored the scaffolding versions (C&D), but were hoping the mirror image could be a bit darker for more contrast. So I did some versions with the mirror image at different darknesses: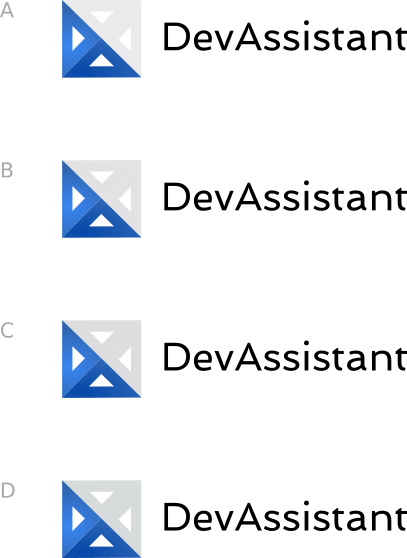 I believe they picked B or C, and…. we have a logo.
Overall, this was a very smooth, painless logo design process for a very easy-going and cordial "customer." 🙂