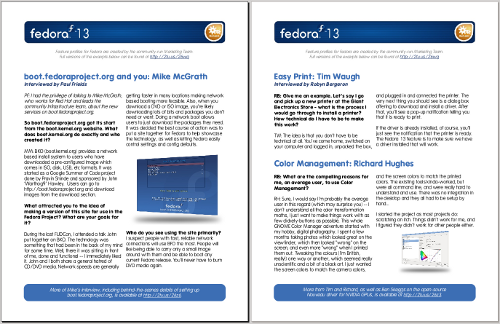 I am quite happy to report that we have identified our first Fedora Design Bounty Ninja: Jef van Schendel!
Jef responded to our first Fedora Design Bi-Weekly Bounty just a couple of hours after it was posted, and he did an amazing job putting together a 6-page layout for the Fedora 13 feature profiles, carefully adhering to all of the Fedora branding guidelines and providing all of his source work!
Congratulations, Jef, on a job well-done! By the way, Jef is a second-year industrial design student from the Netherlands, and this was his first contribution to open source. Also worth noting, Jef has since taken on two other design tickets as well as worked on some mockups for Design Hub, so he is whooping some serious behind (or skulking stealthily about with a Gimp katana or Inkscape nunchucks at the ready, as ninjas prefer to do)!


Are you ready for your chance to become an open source design ninja too? Keep an eye out for the next Fedora Design Bounty!