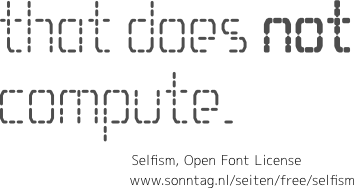 Selfism is a decorative typeface that mimics the look of an electronic display (like an LED clock.) It has both a regular and a bold weight. Selfism's homepage has an interesting type treatment – in general I think Selfism, as a decorative font, can be used to provide a retro technologically-savvy feel to non-essential text in a print layout or webpage. You could also use it in an artistic type treatment of course. Actually, to be honest, you could use it to give text a shopping receipt look…
Selfism was designed by Jan Sonntag and is licensed under the Open Font License.
Selfism has some coverage beyond basic Latin – the Latin Supplementary coverage is quite good but the extended Latin coverage is poor.
So, you want to package Selfism?
Gee whiz! You're fantastic! You'll want to follow the first steps here next to the 'if you intend to do some packaging' header:
Our fonts packaging policy, which the above refers to, is documented here:
And if you have any questions throughout the process, don't hesitate to ask on the Fedora Fonts SIG mailing list:
Last Week's Font
Last week's font was Cyklop by Janusz Marian Nowacki. Nobody has picked up the font package request yet! Would you like to?