Some caveats:
Many respondents gave multiple answers to questions. I counted every answer – I did not limit each respondent to one answer. Maybe this means using pie charts is bogus (I'm open for other recommendations!) But consider that the percentages are percentages of the total responses, which is greater than the number of total respondents (78) so when you're reading it, don't think "5% of respondents only do this" think "5% of respondents do this, and they might do other things as well."
I tallied everything manually, copying from the blog post comments to an OO.o spreadsheet. I'm sure there's manual errors. With 78 respondents though hopefully it all rounds out.
Okay, with those out of the way… here's what I've got from my earlier survey on how folks get Fedora: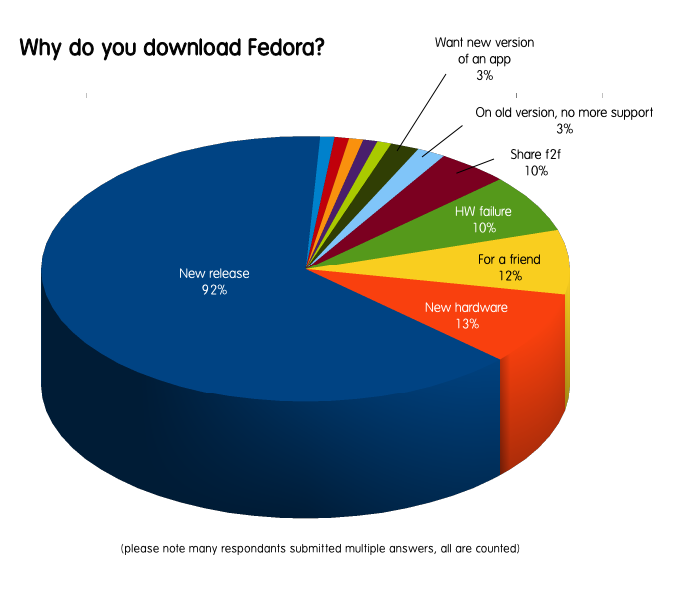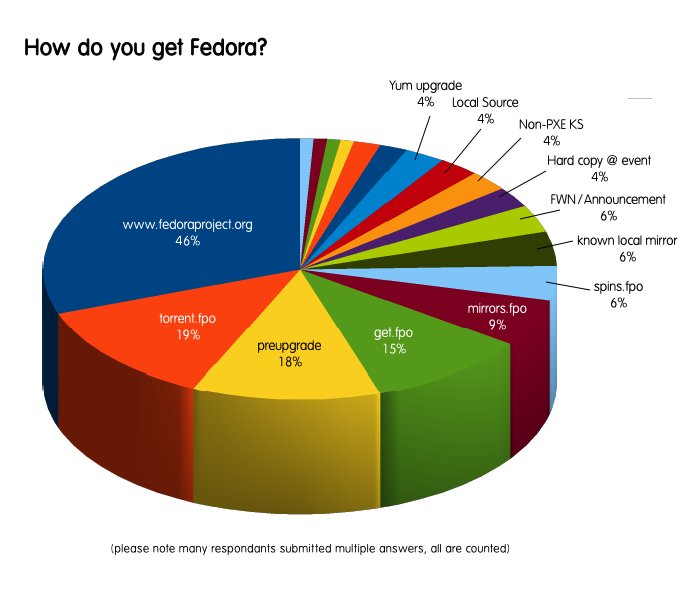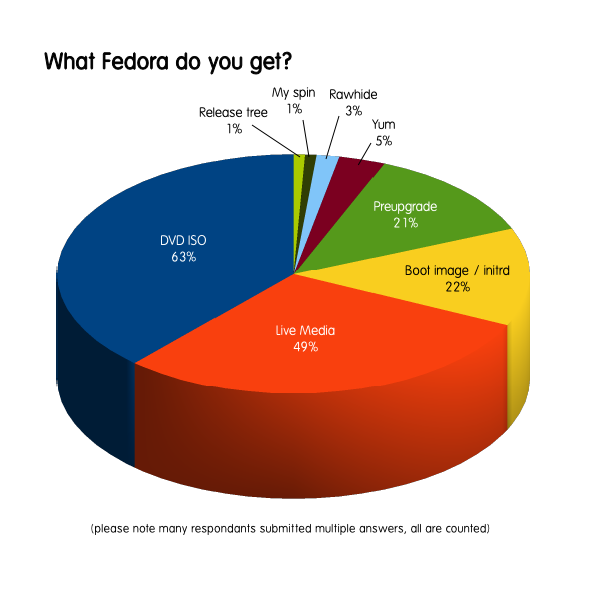 There's a lot of interesting points brought up in the comments, you can read them for yourself but here are some that caught my attention:
Two respondents pointed out they download during beta or pre-release and track rawhide following that rather than waiting for final.
The most frequent standard response that I saw to A B C was 1 5 1.
Many people noted once they download, they keep that copy around for later use.
Some folks mentioned downloading live media specifically for USB keys only (cheaper overall than blank DVD media)
A few respondents mentioned they are primarily Ubuntu or other distro users but download Fedora during a new release to see the new technology.
Several people noted they like to download the bare minimum, the initrd and boot image or whatnot, because they'd rather install things they need on demand than have them waste HDD space and potentially never get used.
A few respondents mentioned they get the LiveMedia strictly for showing off / demoing.
One respondent pointed out he gets one each of GNOME and KDE Live Media.
A couple people mentioned braveness being involved in preupgrading. Also some mentioned they'd like to use preupgrade but for various reasons couldn't.
A lot more people upgrade via yum than I thought would.
One person pointed out they go to get.fpo specifically because they know a KDE link isn't elsewhere.
Here's my work produced during this:
The ODF spreadsheet used to tally the results and generate the graphs. (244K OpenOffice.org Calc ODS file)
Inkscape SVG Source for the prettifying I did of the graphs.

(174K Inkscape SVG file)
It's late here so I've not quite processed all of this, but I already have some ideas on how to interpret all this so hopefully I'll follow up with a later post.