Deb Nicholson, Asheesh Laroia, and the OpenHatch project organized this year's Software Freedom Day Boston.
I gave a keynote presentation on how design bounties have worked for the Fedora Design team, and the steps to create your own bounty. You may have noticed our newest bounty was posted the morning of Software Freedom Day, and we've already got a ninja recruit working on it!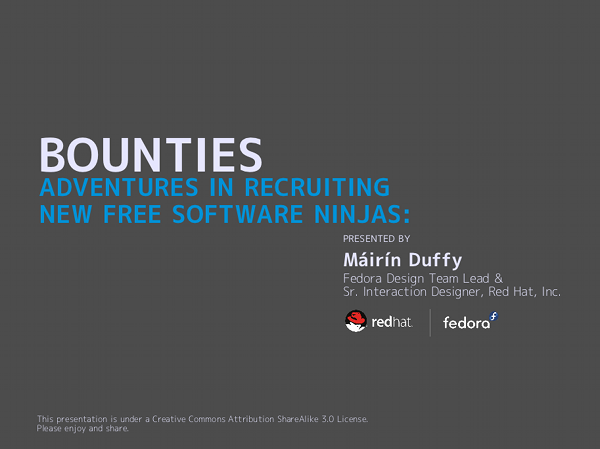 Download LibreOffice ODP (14 M)
Download PDF (14 M)
The presentation is provided here under a Creative Commons Attribution ShareAlike 3.0 license. Please share and enjoy.


There were a lot of great talks by Boston-area community leaders. I was surprised to learn, for example, that the local python meetup in Boston is 1200+ members strong. I'm hoping to be able to make some time to get involved in the Boston python community in particular soon.

I snapped this picture of Matthew Garrett fixing the projector display, because it reminded me of a recent tweet.


Luke Macken's brother, who is an Emerson film student, came out with his camera and filmed the talks. Hopefully they'll be available!
You can view the full album of Boston Software Freedom Day pictures I took in the meantime.