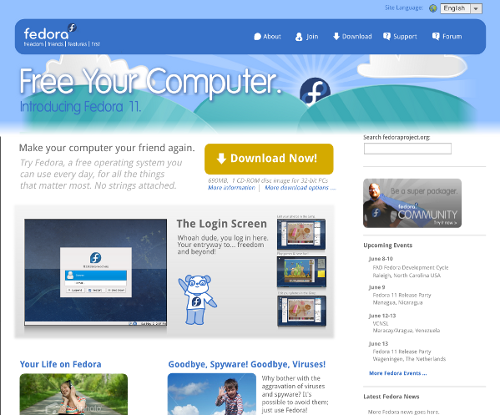 While stickster was in the Boston area this week, we collaborated on some new design ideas for www.fedoraproject.org and for get.fedoraproject.org.
What do you think? I'll give you a run-down of the front page design:
Tour Widget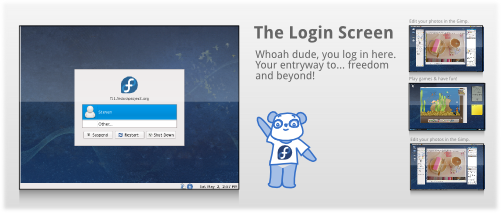 This is a very simplistic design but the basic idea is you have a scrollbox of screenshots you can click through and get descriptions of.
Fedora fits in your life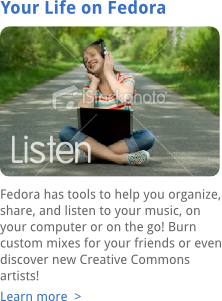 The idea behind this is to be a rotating widget that shows how Fedora fits into your life. Some ideas on how to do this include talking about music, photos, chat, email, browsing, etc. and mention the tools used in each, linking out to a page of more details on each topic. This particular mocked up one focuses on listening to music.
What makes Fedora different?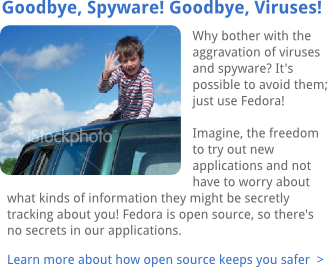 This widget is meant to operate similarly to the previous one – there's a set of different static content that gets loaded into it on a rotating basis. The content here focuses on what makes Fedora different than other operating systems.
You can do this in Fedora!

This widget, again, meant to be rotating content, focusing on the little cool things you can do if you use Fedora. Some ideas we came up with for projects include making funny portraits in Cheese and creating Andy-Warholesque bitmap traced artwork in Inkscape. The main goal of this widget is to entice downloads. 🙂
Who uses Fedora?

Another rotating set of content to show real-life Fedora users and talk about how they use it.
The full set of mockups are here:
Get Fedora (please excuse the stick figure art 🙂 )
Install Splash – similar to how getfirefox.com gives you a splash screen when you go to download
---
P.S. – As Craig and Bob reminded me to point out, we're not going to actually use stock photo imagery in the real site. That's why we need YOUR photos to make this redesign a success. 🙂 Drop me a comment here if you'd be willing to help us fill the site with photos of actual Fedora users, even better, if you'd be willing to be interviewed for one of the user profiles or have an idea for a project!