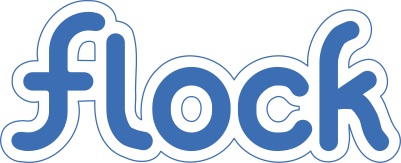 Ryan Lerch put together an initial cut at a Flock 2017 logo and website design (flock2017-WIP branch of fedora-websites). It was an initial cut he offered for me to play with; in trying to work on some logistics for Flock to make sure things happen on time I felt locking in on a final logo design would be helpful at this point.
Here is the initial cut of the top part of the website with the first draft logo:


Overall, this is very Cape Cod. Ryan created a beautiful piece of work in the landscape illustration and the overall palette. Honestly, this would work fine as-is, but there were a few points of critique for the logo specifically that I decided to explore –
There weren't any standard Fedora fonts in it; I considered at least the date text could be in one of the standard Fedora fonts to tie back to Fedora / Flock. The standard 'Flock' logotype wasn't used either; generally we try to keep stuff with logotypes in that logotype (if anything, so it seems more official.)
The color palette is excellent and evocative of Cape Cod, but maybe some Fedora accent colors could tie it into the broader Fedora look and feel and make it seem more like part of the family.
The hierarchy of the logo is very "Cape Cod"-centric and my gut told me that "Flock" should be primary and "Cape Cod" should be subordinate to that.
Some helpful nautically-experienced folks in the broader community (particularly Pat David) pointed out the knot wasn't tied quite correctly.
So here were the first couple of iterations I played with (B,C) based on Ryan's design (A), but trying to take into account the critique / ideas above, with an illustration I created of the Lewis Bay lighthouse (the closest to the conference site):


I posted this to Twitter and Mastodon, and got a ton of very useful feedback. The main points I took away:
The seagulls probably complicate things too much – ditch 'em.
The Fedora logo was liked.
There seemed to be a preference for having the full dates for the conference in the logo.
The lighthouse beams in C were sloppily / badly aligned… 🙂 I knew this and was lazy and posted it anyway.
Some folks liked the dark blue ones because it was a Fedora color, some folks felt A's color palette was more "Cape Cod" like.
At least a couple folks felt C was reminiscent of a nuclear symbol.
The simplicity / cleanness of A was admired.
So here's the next round; things I tried:
Took a position on the hierarchy and placed 'Flock' above 'Cape Cod' in the general hierarchy in the logo.
Standardized all non-Flock logotype fonts on Montserrat, which is a standard Fedora brand font.
Shifted to original color palette from A.
Properly aligned lighthosue lights.
Added full dates to every mockup.
Corrected knot tie.

One more round, based on further helpful Mastodon feedback. You can see some play with fonts and mashing up elements from other iterations together based on folks' suggestions:


I have a few favorites. Maybe you do too. I'm not sure which to go with yet – I have been staring at these too long for today. I did some quick mockups of how they look in the website: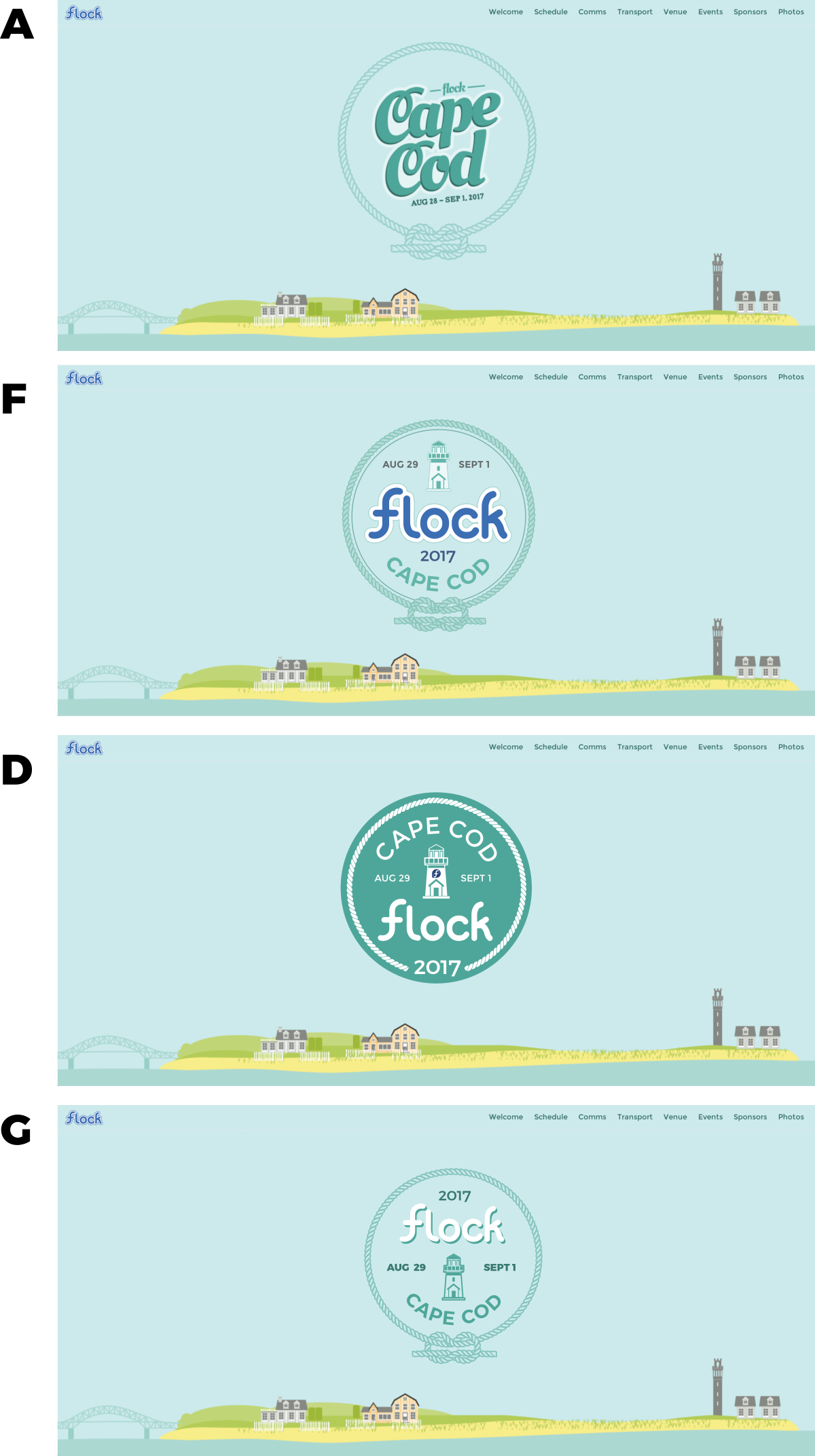 I'll probably sit on this and come back with fresh eyes later. I'm happy for any / all feedback in the comments here!