One of the things the Fedora Design Team decided to do following the Design Team Fedora Activity Day(s) we had back in January was to meet more regularly. We've started fortnightly meetings; we just had our second one.
During the FAD, we figured out a basic process for handling incoming design team tickets and Chris Roberts and Paul Frields wrote the SQL we needed to generate ticket reports for us to be able to triage and monitor our tickets more efficiently. From our whiteboard: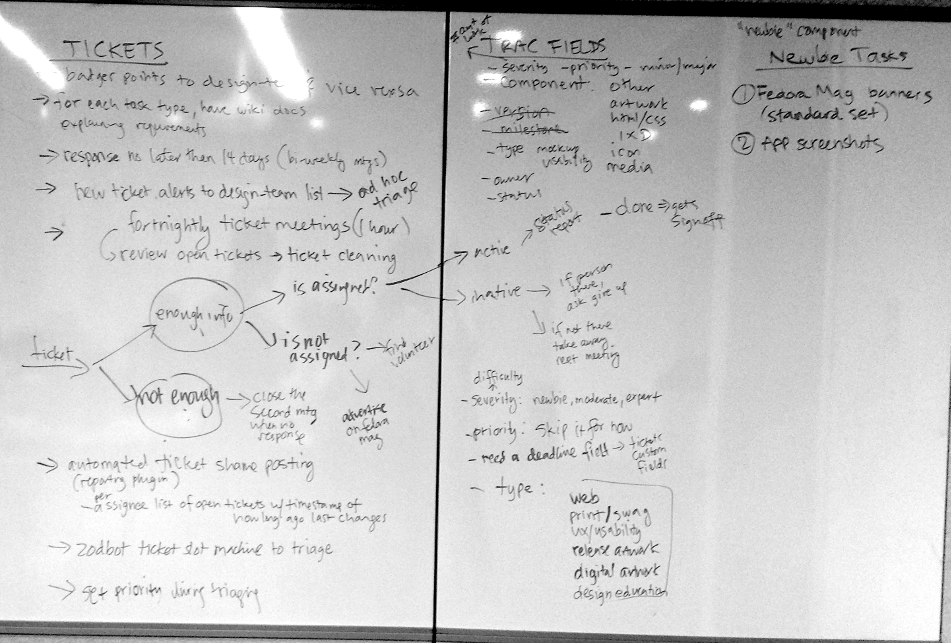 Anyhow, with those ticket reports in place and some new policies (if a ticket is older than 4 weeks with no response from the reporter, we'll close it; if a ticket hasn't had any updates in 2 weeks and the designer who took the ticket is unresponsive, we open it up for others) we went through a massive ticket cleanout during the FAD. We've been maintaining that cleanliness at our fortnightly meetings: we have only 16 open tickets now!
Were you to join one of our meetings, you'll note we spend a lot of time triaging tickets together and getting updates on ticket progress; we also have an open floor for announcements and for designers to get critique on things they are working on.
Here's a report from our latest meeting. I don't know if I'll have time to do this style of summary after every meeting, but I'll try to do them after particularly interesting or full meetings. When I don't post one of these posts, I will post the meetbot links to the design-team mailing list, so that is the best place to follow along.
Fedora Design Team Meeting 10 March 2015
Completed Tickets
FUDCon APAC 2015 Call for Proposals Poster
Shatadru designed a poster for FUDCon APAC in ticket 353; we closed the ticket since the CFP was closed.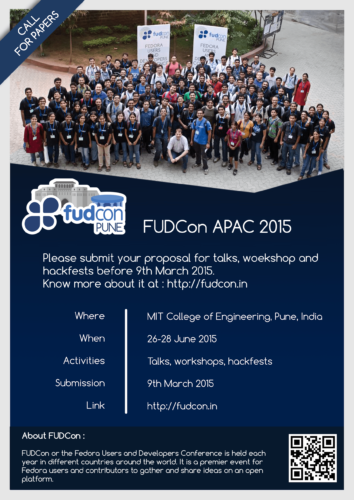 LiveUSB Creator Icons
Gnokii took on a new ticket to design some icons for the new LiveUSB creator UI.
FUDCon Pune Logo design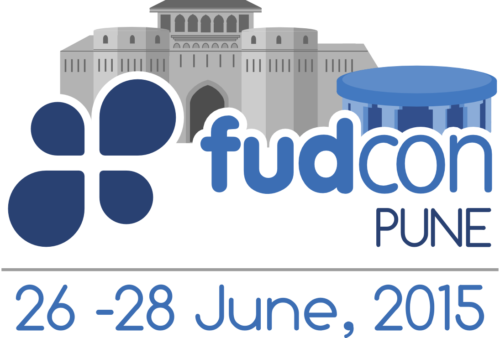 Suchakra and Yogi together created the logo for FUDCon Pune, and we closed the ticket as the work was all done and accepted.
Standee Banner Design for Events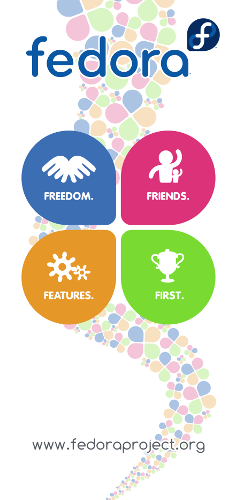 Gnokii gave us a print-ready CMYK tiff for this banner design ticket; we updated it with a link to the file and asked for feedback from the reporter (siddesh.)
Fedora Magazine favicon

Ryan Lerch created a favicon for Fedora Magazine, so we closed the ticket seeing as it was done. 🙂
Tickets In Progress
Tickets Open For You to Take!
One of the things we required to join the design team is that you take and complete a ticket. We opened up 3 tickets for folks to be able to take – this could be you! Let me know if you want to work on any of these!
Discussion
Fedora 22 Supplemental Wallpapers Submission Window Closing Soon!
Gnokii pointed out that we really need more submissions for Fedora 22 supplemental wallpapers; the deadline is March 19. If you have some nice photography you'd like to submit or have a friend who has openly licensed photography you think would be a good match for Fedora, please submit it! All of the details are on gnokii's blog post, and you can submit them directly in Nauncier, our wallpaper submission & voting app.
1/4 Page Ad for LinuxFest Northwest

One of our newest members, mleonova, put together some mockups for an ad for Fedora to go in the LinuxFest Northwest program. We gave her some critiques on her work and she is going to work on a final draft now.
New look for Fedora Magazine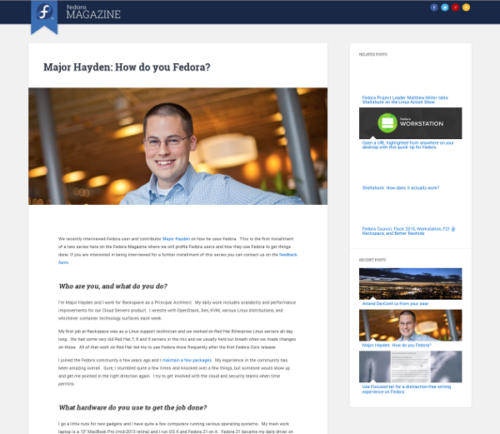 Ryan Lerch put together a new design for Fedora Magazine on a test server and shared it with us for feedback; overall the feedback was overwhelmingly positive and we only had a couple of suggestions/ideas to add.
Ask.fedoraproject.org Redesign
Suchakra, Banas, and Sadin worked on a redesign of ask.fedoraproject.org during the Design Team FAD for ticket 199 and Suchakra showed us some things he'd been working on for that ticket. So far the work looks great, and it's now listed as a possible summer project for a Fedora intern in GSoc.
See you next time?
Our meetings are every 2 weeks; we send reminders to the design-team mailing list and you can also find out if there is a meeting by checking out the design team category on FedoCal.